Golden Sunlit Days and Balmy Nights: A Get-Away to Palm Springs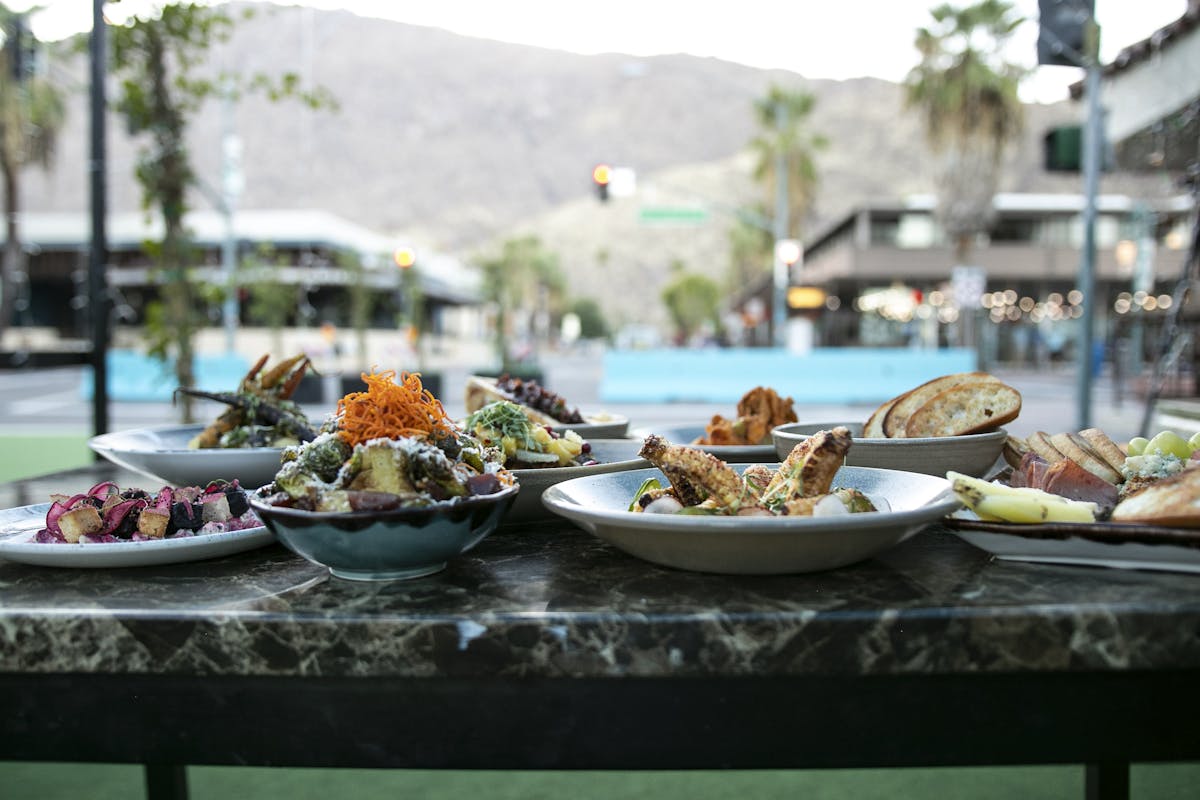 Source: Pasadena Travel | May 23, 2014 | Travel Feature
Most of us from SoCal have been to Palm Springs, but were we really staying in Palm Springs? Located right in the middle of Downtown on Palm Canyon Drive sits the Hyatt Palm Springs (previously Hyatt Regency Suites), now that's Palm Springs. With walkable-distance shops and dining to the right and left of the hotel you can't get anymore centrally located.
The hotel's General Manager David York said in a press release, "Our easily accessible and walkable location, spacious suites and customizable itineraries make the perfect combination for a stellar experience in the Coachella Valley."
The Hyatt Palm Springs is the only all-suite hotel in the area with rooms that have separate living areas and furnished balconies. They also have rooms with pool cabanas attached. Our room was on the top floor (6th) and had a beautiful view of the mountains. The bathroom had marble throughout and the bed was a dream. High-speed internet, two large flat-screen TVs, and an iHome stereo with iPod docking station provided the technology for all our gadgets.
After taking a quick look around our room we were off to our lunch at Pomme Frite, a leisurely stroll from the hotel. Pomme Frite offered French and Belgian Cuisine and one of the largest selections of Belgian Beers around. We sat on the shady patio and listened to accordion music being played by a street musician. It was just like sitting in a bistro in Paris. "Opening a restaurant is not just opening a door and putting a chef in the kitchen," said owner JC "it's not only good service, food, environment, and atmosphere it's all of these things."
Because Pomme Frite offers such a large selection of Belgian Beers I had to order one. I got a Lindemans Peach Lambic which is made by spontaneous fermentation and is sweeter than other beers. With temperatures in the 90s (it was cool that day) it was just the refreshing drink I needed.
The menu certainly had a French/Belgian vibe going with crepes, omelets, quiches, croques, and of course mussels and pomme frites. I ordered a Croque Madame and my companion opted for the Fish and Frites.
A Croque Madame is a grilled sandwich of French ham and cheese with a Bechamel sauce and topped with an egg. Golden and crunchy, Pomme Frite's version was simplistic: toasted bread, melted cheese, ham and Bechamel. The egg added a golden sauce that cascaded down over the sandwich. Lightly-dressed greens added color and crunch.
A delicate piece of Tilapia made up the Fish and Frites. Flaky golden and delectable the fillet was coated with a light dusting of seasoned flour and then pan fried until brown. The frites were plentiful and served with a fresh mayonnaise and the most delicious slightly spicy remoulade, plus ketchup (please don't use the ketchup).
A delicious meal in a wonderful setting and reasonably priced, what more could you want?
Back at the hotel, it was poolside with a good book in one hand and a drink in the other. Cabanas dot the pool area and there are plenty of lounge chairs. Just a tip, when ordering a drink be sure to order one off the menu. I'm sorry to say that the bartender really doesn't know what she's doing if you go off script.
We had our evening meal in the hotel at the SHARE restaurant. The menu at SHARE offers small plates to "share" and a selection of pasta, pizza and entrees. Their ingredients are locally sourced and they list their suppliers on the bottom of the menu (I thought this was a great idea)We started a meal with one of the small plates. A lightly breaded round of goat cheese that melted onto slices of pita bread. Topped with a compote of dried fruit and nuts bound together with a sweet syrup, we savored each bite.
For our entrees it was the Sonora pork chop for my companion and the stir fry udon for me. The pork chop was a thick cut and cooked to order. It was accompanied by Andalusia chorizo and prunes which added a bit of heat but not much more than that.
My stir fry udon was described as Chilean Sea Bass, black beans and saffron with a black bean garlic sauce over udon. What I received was a bowl of wheat spaghetti with sauteed zucchini, tomatoes, and onions. It had absolutely no correlation to the menu description. I called the waiter over and he was unable to explain what had happened. I ended up sending it back and ordering another entree; fire cracker prawns. The dish had large prawns with a spicy orange sauce over crispy rice. It was alright but not what I really wanted or what I had originally ordered.
To finish the meal I ordered bread pudding and my companion the chocolate ganache cake. Both were disappointing and were left uneaten.
We left an order for room service for breakfast because we wanted to make the most of our patio and view. The breakfast was right on time and was delicious. A pot of Starbuck's coffee, eggs Benedict and a bagel, smoked salmon with all the fixins and eaten on our patio made for a delightful beginning to the day.
A ride on the aerial tram was scheduled for later in the day and I was really looking forward to it. Out of all the times I had been to Palm Springs I had never taken the tram up the mountain. The trams are pretty amazing. The floor of the car rotates so you get a 360 degree view up and down the mountain. It has been said that going on the tram is like starting in the Sahara and going to Alaska (a bit of an exaggeration but when it's in the 100′s on the valley floor, it's refreshing and cool on top of the mountain).
The ride takes about 10-minutes and covers 2.5 miles. It begins at Valley Station at an elevation of 2,643 feet and ends at Mountain Station at an elevation of 8,516 feet. I'm glad I brought a sweater with me because, as advertised, it was quite cool at the top. There are plenty of hiking trails when you get to the top and many of the people who took the ride up brought backpacks and hiking equipment. We just walked around, looked at the plants and animals and generally had a good time.
That evening we had reservations at a local restaurant called Zin American Bistro which was a short walk from the Hyatt. It was apparent that this was a favorite of the local's because the hostess greeted many of the diners by name. The restaurant has a wonderful large patio with misters for hotter days. It was a warm evening so we sat on the patio.
Fried Blue Cheese Olives and Zin Bites
I had already checked the menu out and was ready to order fried blue cheese olives and Zin bites. The olives were large and green and stuffed with blue cheese and coated with a Panko crust. They were crispy, salty and briny good. The Zin bites were mini Beef Wellingtons with a bit of fillet and some goat cheese all wrapped up in a puff pastry and drizzled with a shallot sauce. Both of these appetizers were so delicious. We really enjoyed them.
I ordered a macadamia chicken schnitzel and my companion buttermilk fried chicken. The schnitzel was a chicken breast pounded thin and coated with a macadamia nut crust, it was fried to golden. Accompanying the schnitzel was roasted fingerling potatoes and broccolini. The dish also came with country gravy which I opted for "on the side" because I usually don't like country gravy. I was totally wrong about this gravy it was creamy, not overly greasy-I asked for more! The schnitzel was not dry, the chicken was still tender and juicy.
My companion's fried chicken was also another winner. He felt the same as I did about the gravy-may I have more please? Mashed potatoes and creamed spinach completed the meal.
For dessert we shared a piece of owner Mindy Reed's special goat cheese cheesecake. Coated with toasted hazelnuts, topped with bruleed sugar and accompanied by a balsamic glaze with fresh fruit. It was probably one of the most delicious things I have ever put in my mouth. Smooth and creamy (no chalky texture here), slightly sweet with a touch of lemon the cheesecake was a party in my mouth.
After a relaxing night's sleep and a hearty breakfast we were on our way home, relaxed, pampered and refreshed.
The 411:
Hyatt Palm Springs: 285 N. Palm Canyon Drive, Palm Springs
(760) 322-9000, www.palmsprings.hyatt.com
Pomme Frite: 256 S. Palm Canyon Drive, Palm Springs
(760) 778-3727, www.pomme-frite.com
Palm Springs Aerial Tram: 1 Tram Way, Palm Springs
(760) 325-1449, www.pstramway.com
Zin American Bistro, 198 S. Palm Canyon Drive, Palm Springs
(760) 322-6300, www.pszin.com
Palm Springs Visitor Information, 2901 N. Palm Canyon Drive, Palm Springs
(760) 778-8418, www.visitpalmsprings.com