Desert Chefs Dish Comfort Food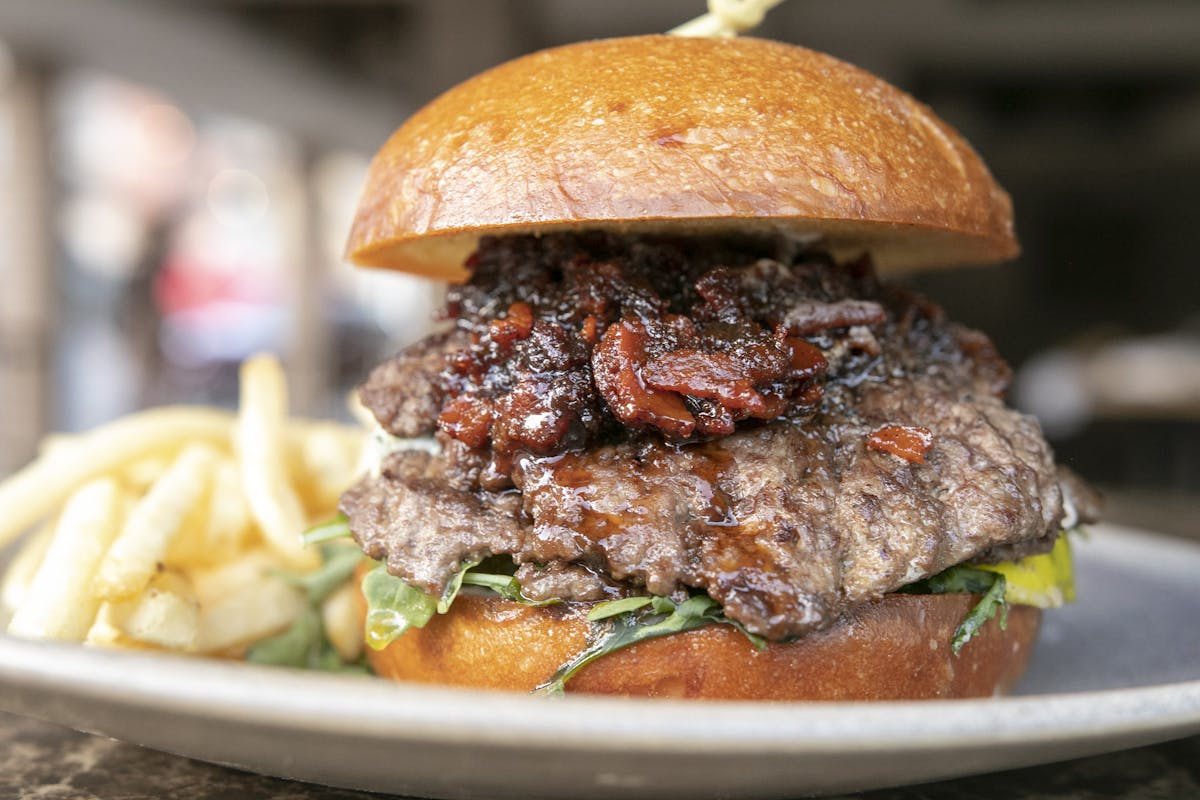 Source: The Desert Sun | December 8, 2014 by Patrick Bartlett
(Click here to link to the original article!) Comfort can mean many things in today's crazy busy world. For some, it's financial security; for others, solid dependable relationships; and for almost everyone, it's food. According to a quick Wikipedia search, comfort food is "a traditionally eaten food which often provides a nostalgic or sentimental feeling to the person eating it."
Health enthusiasts say that offering recognized comfort foods and "happy hour" beverages to geriatric patients increases their health and quality of life, especially for those with otherwise diminished appetites. We all should embrace the joys and affections we have with our own personal favorites because they're good for body and soul.
To celebrate comfort food and Palm Springs living, five local restaurant owners and chefs agreed to share their favorite recipes and the stories behind them. Each of these talents contributes to the most elevated range of dining options greater Palm Springs has seen. Discovering their favorite comfort foods offers us personal insight into what makes them tick.
Mark Van Laanen – owner and executive chef, Trio and The Purple Room
Both Trio restaurant and The Purple Room Restaurant and Stage offer New American cuisine with an emphasis on comfort food. Van Laanen's favorite comforting dish in the cold weather of his native Wisconsin is just as American as anything on either of his Palm Springs menus. In Wisconsin, Van Laanen's chili was a favorite menu item. It can be a hard sell in the desert.
Chili reminds Van Laanen of home. His version is classic, no frills, just the basics with a hint of extra spice and heat. When his mother recently called him from Wisconsin — while it was hovering around 100 degrees in Palm Springs — she was gazing out the window at a bright explosion of fall foliage on display in crisp 45-degree air. Remembering those magical autumn days sparked his craving for chili. Van Laanen says, "When I'm missing home and craving some comfort food in the desert, I just close the blinds, crank the air and go for it."
MARK'S CHILI
Makes a large pot
Ingredients
● 3 ¼ cups diced onions
● ¼ cup olive oil
● 3 tablespoons chopped garlic
● 3 lbs. ground beef
● ¼ cup chili powder
● 2 tablespoons paprika
● ½ teaspoon ground cinnamon
● ½ teaspoon allspice
● 2 tablespoons ground cumin
● ½ tablespoon black pepper
● 3 tablespoons tomato paste
● 3 tablespoons dried oregano
● 3 small cans tomato juice
● 1 dark beer
● 3 28-oz.cans diced tomatoes
● 6 cups water
● Salt to taste
Method
In a large pot heated over medium heat, brown the beef. Once browned, add the onions and garlic. Sauté until soft, then add the remaining ingredients and simmer over medium-low heat until all the flavors have melded. Serve with a garnish of sour cream, diced green onions, fresh tomatoes, and shredded cheddar and jack cheese.
Mario Curcio – executive chef, Jake's Palm Springs
When Chris Malm and Bruce Block first opened Jake's, the concept was more cafe with a gourmet take-out counter. As people began to discover the restaurant, it slowly evolved into one of Palm Springs' most popular boutique eateries. The patio is intimate, and the classic American cuisine is impeccably prepared and presented. Chef Mario Curcio has guided the kitchen staff for five years and is heading into his sixth season.
Curcio's background started as a chef on tourism dive boats in Santa Barbara. He had to prepare hearty, cold-weather meals in extremely tight spaces for hungry divers. His comfort food choice is something he used to serve on the beach: Citrus Ginger Marinated Tri-Tip served with simple grilled vegetables and roasted red potatoes. Curcio designed this dish for simplicity, and because it's filling and easy to prepare in extremely limited spaces. He's cooked the dish on seashore sand over an open fire. He also loves it because it can be dressed up for more formal dining like the recent large wedding Jake's catered. "It's a dish that can go from the sand to the banquet hall," Curcio likes to say.
MARIO'S TRI-TIP
Serves 4
Ingredients
● 1 large tri-tip
Tri-tip marinade
● 2 lemons
● 2 oranges
● 8 cloves of garlic
● 3 rosemary stems
● ½ cup of teriyaki sauce
● 1 cup of white wine
● ¼ c. extra virgin olive oil
Marinade for 24 – 48 hours
Grilled to desired doneness, serve with grilled vegetables and roasted red potatoes.
Joane Garcia-Colson, owner and executive chef – dish Creative Cuisine
Seldom does a new restaurant take an area by storm, but dish Creative Cuisine is one that has. In a little more than two years this restaurant has grown into one of the area's most talked-about dining experiences. Every meal includes an array of amuse-bouches not found on the menu, making each meal an unrushed gourmet experience. Chef Joane Garcia-Colson frequently visits the dining floor to interact with the constant flow of serious gourmands. OpenTable recently recognized dish as one of the top 100 foodie restaurants in the nation.
When Garcia-Colson isn't working on the vast array of creative and innovative menu items, she heads to her home kitchen to cook up her favorite childhood comfort food, pozole. The recipe always takes her back to her childhood in her grandmother's kitchen. Over the years, and in true chef form, Garcia-Colson has modified the original recipe. She lightened it up, changed up the sauce to be more verde-based and replaced the pork with chicken. This is her go-to dish when it's chilly out, or when she and her loved ones are feeling under the weather. Add one of the craft cocktails featured on the dish menu, and all the challenges of her busy life fade away.
CHICKEN POZOLE VERDE
Ingredients
1 whole chicken, cut into pieces (reserve breasts)
1 lg. onion – rough chopped
5 stalks celery – rough chopped
2 cloves garlic sliced
6 medium tomatillos (husked)
6 oz. toasted pepitas (pumpkin seeds)
1 to 1½ jalapenos (ribs and seeds removed)
2 oz. onion, small diced
2 ½ tsp. salt
2 T. vegetable oil
2 cans (29 oz. each) white hominy (drained)
Salt to taste
Garnish
Cubed avocado
Shredded Cabbage
Julienned radish
Small diced red onion
Cilantro leaves
Sour cream
Lime wedges
Method:
Stock
Put the first four ingredients (except for breasts) into a large stock/soup pot and add 2 to 3 quarts of cold water (at least enough water to cover ingredients within 1 inch of the top of the pot.)
Bring to a boil. Reduce heat to simmer and cook at a simmer for 2 to 3 hours, until the stock is flavorful. Turn off heat.
Tomatillo puree
6 medium tomatillos (husked)
6 oz. toasted pepitas (pumpkin seeds)
1 jalapeno (ribs and seeds removed)
3 oz. onion, small diced
Put tomatillos in a pot and cover with water. Bring to a boil and cook until the tomatillos are tender. Strain the tomatillos and discard cooking liquid. Combine the cooked tomatillos, pepitas, jalapeno and onion into the jar of a blender. Puree with a little bit of the stock until very smooth. (Do not use too much stock. Only enough to create a puree that is slightly thicker than heavy cream.) Pass the puree through a fine mesh sieve, pressing on the solids with the back of a spoon. Discard solids and reserve puree.
In a large sauté pan, heat 2 T vegetable oil. When the oil is hot, add the tomatillo puree. Reduce heat to medium/medium-high. Cook, stirring frequently until the color has darkened and puree has thickened considerably.
Chicken breasts
Bring a large pot of water to a boil then add the breasts (with skin removed.) Reduce the heat to medium and cook the breasts until the internal temperature of the chicken is 155° F. Remove the breasts and set aside until cool enough to handle. Shred the breasts.
Pozole
While the breasts are poaching, strain the stock and discard the solids. Return the stock to the soup pot, add the tomatillo — pumpkin seed mixture and the hominy and return to a gentle simmer. Add the shredded chicken.
Cook for about 1 hour, stirring frequently, until slightly thickened and flavorful. Season with the remaining 1 ½ teaspoons salt.
Serve the pozole in shallow bowls, and allow guests to garnish their soup with condiments of their own choosing.
Mindy Reed, owner and executive chef – Zin American Bistro and Alicante
When she's not at the helm managing her two highly regarded restaurants, Mindy Reed is busy training for the annual AIDS LifeCycle or the annual breast cancer awareness ride, YSC Tour de Pink. Or she's busy earning Wine Spectator awards year after year for her astounding wine lists. To make dining matters easy in her rare downtime, Reed resorts to an all-time classic comfort food — Grilled Cheese with Tomato Soup.
Like many comfort foods, the recipe started with her mother. It was a popular meal when the weather got chilly and the rains started. Over the years, Reed's version has morphed with her culinary growth. Today, her grilled cheese includes fire-roasted onions, fresh tomatoes, applewood smoked bacon and Fiscalini aged-cheddar. The tomato soup is made with equal parts coconut milk, roasted tomatoes, basil, and a touch of sea salt.
Reed's comfort-food options have evolved in another way. Though she grew up on a vegan diet, her favorite guilty pleasure today is bacon. "My kitchen staff sees me coming and the first thing they do is hide the bacon," she says.
MINDY'S GRILLED CHEESE & TOMATO SOUP
Grilled cheese sandwich
Ingredients
● Whole wheat bread slices, buttered on one side
● Aged cheddar cheese
● Fire-roasted onions
● Sliced tomatoes
● Cooked applewood smoked bacon
Layer ingredients between the bread and grill over medium heat until bread is golden brown and cheese is nicely melted.
Tomato soup
Ingredients
I can coconut milk
I can diced roasted tomatoes
4 or 5 basil leaves chopped
Salt to taste
Simply combine ingredients in sauce pan, heat and simmer on low for about 15 minutes, puree by hand or in a blender until smooth.
Daniel Villanueva, owner and executive chef – Balisage Bistro
Unlike the other four chefs in this piece, many readers may not know about Balisage Bistro yet, but if you're a foodie, you soon will. Open less than a year, Balisage is located on an off-the-beaten-path location along Gene Autry Trail, next to the Atlantis private plane terminal. Chef Daniel Villanueva works seven days a week, whipping up breakfast, lunch and dinner, demonstrating his passion for Mediterranean cuisine. Everything he does is a labor of love: nothing on his menu is pre-prepared, right down to the brioche buns and house-made catsup. Villanueva grew up with grandparents who were caterers. He spent many days in their kitchen helping out. When considering his favorite comfort food, he alternated between his grandmother's hotdog wrapped in a tortilla with catsup and his stepmother's meatloaf with mac 'n cheese and cooked spinach. He chose to share the meatloaf recipe — whew!
Typical of many kids, Villanueva hated spinach. When no one was looking, he'd scoop it into his pocket and feed it to the family dog. He confessed it years later to his stepmother, who laughed and admitted that she'd always known. Not because she caught him in the act, but because of the bright green pockets she discovered doing the laundry.
DANIEL'S MEATLOAF
Makes one loaf
Ingredients:
● 8 oz. ground chuck
● 8 oz. ground sirloin
● 4 oz. ground veal
● ½ yellow onion finely chopped
● 3 cloves garlic minced
● 1 Roma tomato pureed
● chopped fresh herbs
● Salt & pepper
Roasted tomato sauce
Ingredients:
● 5 charred Roma tomatoes
● ½ charred yellow onion
● 3 cloves garlic roasted in oil
● Salt & pepper
● chopped herbs
Macaroni & Cheese
Ingredients:
● 8 oz. boiled elbow macaroni washed & strained
● 2 T. flour (arrowroot)
● 2 T. Butter (roux)
● 8 oz. cheddar cheese
● 2 c. milk
Spinach
Ingredients:
● 16 oz. cleaned & washed spinach
● Salt & pepper
Method:
Sauté ingredients for the meatloaf until soft and allow to cool. Mix with tomato puree, then mix well with meats and herbs. Season to taste.
Puree or blend charred ingredients for tomato sauce with herbs and a tablespoon roasted garlic oil. Season to taste.
Stuff a large ramekin, cassoulet or similar baking dish with finished meatloaf and bake at 400 degrees Fahrenheit for approximately 35-40 minutes. Top with roasted tomato sauce and bake for another 12-15 minutes.
For the macaroni and cheese, place butter in a sauté pan on medium heat until melted. Add flour and immediately mix well, adding milk a little at a time and stirring. Add cheese a little at a time and constantly stir until well-incorporated. Season to taste.
Bring 5 cups water with a large pinch of salt to a high boil, then add macaroni. Stir well, then turn fire to medium and boil for approximately 12-14 minutes. Pour through sieve or strainer and rinse well.
Place macaroni back in pot and stir in cheese sauce until well-incorporated. Season to taste. Add milk if you like a thinner cheese sauce.
For the spinach, heat sauté pan to low-medium heat. Add spinach and salt and pepper to taste. Add oil or butter if you like but spinach retains water and will sauté well on its own. Place finished meatloaf with sauce off center of plate and place macaroni and cheese next to it with sautéed spinach and enjoy.